Micro-Finance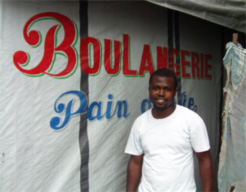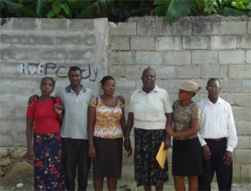 Since 2010, Bridgeway has run a Microfinance program in partnership with trusted local Haitian Pastors who identify credible candidates from their churches for small business loans. The goal of the program is to help people increase their opportunities to work and provide for their families. The program also has a way of unifying the church fostering a community of teamwork and stewardship among business owners and their pastors and well as helping the people of God, and thus His love, be more present in the marketplace. To date, over $60,000 in loans have been given out with a high repayment rate and thankfulness from borrowers.
A couple great examples of the program's success can be seen in the pictures above. On the left is Augustin who is a bakery owner. After the earthquake all he had left was a beat up oven which he used to start baking and selling bread. He was able to grow that business into a small bakery with three ovens and four employees and then later starting a second bakery. With the micro-loan he was able to open a third bakery and hire four more employees. He has a dream of one day owning 10 bakeries.
The picture on the right is a group of borrower's from Pastor Eduord's church. The group started with 5 individuals, each who sold goods on the street. They each had niche markets selling shoes, clothes, school supplies, grocery items, or batteries and small electronics like radios and clocks. The loans gave them the opportunity to purchase more inventory of better quality to turn around and sell making a profit. The borrowers are thankful for the loans and eager to receive additional, larger loans to continue growing their businesses. The group is cohesive, uplifting, and accountable to each other.
The long-term goal of the program is to raise enough funds to be able to work with larger businesses which have the capacity to grow and expand and hire additional employees if given the opportunity and necessary capital.
If you would like to help us make more capital available to our friends in Haiti by donating to our Microfinance program, please click below. A single business owner's loan typically ranges from $300-500 but we would love to be able to make larger loans available to more structured, medium-sized businesses.