Senior Leadership Team
Lance Hahn
Senior Pastor, Elder
E-Mail:
Pastor Lance Hahn has been the senior pastor of Bridgeway Christian Church since 1997. A gifted Bible teacher, Lance is known for his ability to communicate God's truth with accuracy and humor. His role at Bridgeway blends his two greatest passions: God and people. He loves seeing the transformation that happens when God gets a hold of a person's life.
While Lance's primary vocation is leading Bridgeway, God has also allowed Lance to serve Him in several other ways. His sermons are heard daily on KFIA radio, he has spoken at numerous conferences, written several magazine articles, and has published one book, How to Live in Fear: Mastering the Art of Freaking Out. Lance also serves on the board of City Pastors Fellowship, and is passionate about uniting churches in the Sacramento region.
Lance has been married to Suzi since 1995, and they have two daughters (Jillian and Andie) and one pooch, Bella. He holds a B.A. from Sacramento State University and an Master of Divinity degree from Western Seminary. When he's not at church Lance is an avid collector (sports cards, comic books, vinyl records, and other things), a major movie buff, and a big fan of the beach.
You can learn more about Lance, and keep up with his most recent ministry activities at LanceHahn.com and Facebook.com/LanceHahn.
Parnell Lovelace
Director of Care & Compassion, Elder
E-Mail:
Pastor Parnell M. Lovelace, Jr. joined the Bridgeway staff in September of 2015 as Director of Care and Compassion. He provides support to our Soul Care, Pastoral Care, Missions, Community Care, and Prayer departments. Parnell loves the opportunity to lead a dynamic team of individuals who are committed to presenting the gospel of the Kingdom is caring, encouraging, and practical ways.
Parnell is married to Dianna, and they have two children (Mycole Tyrell and Abjenea). He is holds a D.Min from Biola University, a Master of Practical Theology from Oral Roberts University, a Master of Social Work from the University of Oklahoma, a Bachelor of Social Work from Oral Roberts University, and an A.A. in Social Science from American River College.
Parnell is the founding pastor of Center of Praise Ministries in Sacramento, where he pastored for 25 years. He is also a certified church consultant and he serves on the Board of Trustees at William Jessup University. In his spare time Parnell enjoys reading, writing, walking, and watching Family Feud or reruns of Good Times, Sanford and Son, and Everybody Loves Raymond.
Heidi Coughran
Director of Operations
E-Mail:
Heidi joined the Bridgeway team in November of 2015 as Director of Operations. Since joining the team, Heidi has focused on developing and implementing processes and systems for all day-to-day operations. Her responsibilities include oversight and development of personnel management, finances, facilities, IT, human resources, creative arts, events, database management, and office operations. Heidi loves having the opportunity to walk with others on their journey of faith. She feels blessed to be able to partner and serve with an amazing team of people who are dedicated to leading and inspiring others to know Jesus.
Heidi married Brian in 1999 with his three children, Brianne, Angie and Eric. Together Heidi and Brian have one daughter, Brooke and a golden retriever, Spirit. Heidi attended Sacramento State University, and she has over 25 years of operations management experience. When she is not at Bridgeway her passions are spending time with her family in any outdoor activity and maintaining a 125-gallon salt water reef tank. She also enjoys scrapbooking, scuba diving, horseback riding, and she especially loves archery with her daughter.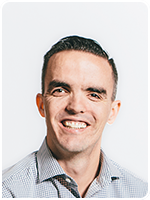 Brian Kiley
Director of Connections & Communications
E-Mail:
Pastor Brian Kiley joined the Bridgeway staff in 2013, and currently serves as Bridgeway's Director of Connections and Director of Communications. Brian also occasionally teaches in our weekend services. In his role in our Connections department he provides oversight and direction to all weekend guest services teams and our five "Connect" ministries (men's, women's, marriage/parenting, singles, and seniors), and also oversees Bridgeway's new member process.
In his role as Director of Communications he oversees all internal and external church communication including in-service announcements, the weekly bulletin, the website, The City, and our various social media platforms. Brian loves the authenticity and humility of the Bridgeway culture, and he loves the opportunity to help people from all walks of life come to know Jesus in a life-changing way. He also enjoys using technology to communicate the gospel in innovative ways.
Brian is married to Christie and they have two sons, Matthew and Joey. He holds a B.A. in Communication Studies from UCLA and a Master of Divinity degree from Fuller Theological Seminary. Prior to coming to Bridgeway he had served as a college pastor and a youth pastor. When he's not at Bridgeway Brian loves reading, playing pickleball, hiking, spending time outdoors, and watching his favorite sports teams (Kings/49ers/UCLA) lose.