Operations & Administration
Heidi Coughran
Director of Operations
E-Mail:
Heidi joined the Bridgeway team in November of 2015 as Director of Operations. Since joining the team, Heidi has focused on developing and implementing processes and systems for all day-to-day operations. Her responsibilities include oversight and development of personnel management, finances, facilities, IT, human resources, creative arts, events, database management, and office operations. Heidi loves having the opportunity to walk with others on their journey of faith. She feels blessed to be able to partner and serve with an amazing team of people who are dedicated to leading and inspiring others to know Jesus.
Heidi married Brian in 1999 with his three children, Brianne, Angie and Eric. Together Heidi and Brian have one daughter, Brooke and a golden retriever, Spirit. Heidi attended Sacramento State University, and she has over 25 years of operations management experience. When she is not at Bridgeway her passions are spending time with her family in any outdoor activity and maintaining a 125-gallon salt water reef tank. She also enjoys scrapbooking, scuba diving, horseback riding, and she especially loves archery with her daughter.
Diane Pascua
Office Manager
E-Mail:
Diane Pascua is Bridgeway's Office Manager, and she has been a part of the staff since 2006. In her current role she serves the Bridgeway team by providing administrative support to the staff and managing the volunteer team and works the office reception desk. She loves coming alongside our staff to help ensure excellent communication and preparation for Bridgeway events. She loves serving on a team that lives and serves authentically, and she also enjoys the great diversity of ages, backgrounds, and skill sets on the staff.
Diane is married to Vance and they have two dogs, Jack and Buster. She holds a degree in Liberal Studies from The Master's College. When she' s not at Bridgeway she loves hiking, biking, spending time outdoors, cooking nutritious meals, and spend time with friends. She is also a Pilates and yoga instructor. Her time on the Bridgeway staff has been a time of great personal and professional growth , and she loves that her job continually challenges her to grow in ways that benefit other important relationships in her life.
Dave Bresnyan
Property Manager
E-Mail:
Dave Bresnyan joined the Bridgeway team as Facilities Director in 2011, and he currently serves as our Property Manager. In his role he helps maintain the property outside of the Bridgeway building, and works with the different tenants we have on the property. Dave loves working with anything mechanical, so the Bridgeway campus is like a candy store to him. He also enjoys the chance to meet people from all different walks of life and learn about how God has shaped them.
Dave is married to Janet and they have four adult children, four grandchildren, and one great grandchild. He is a licensed general contractor and an EPA certified instructor. Outside of work he enjoys farming and making organic body care products.
Emanuel Agrigoroae
Facilities Director
E-Mail:
Emanuel Agrigoroae joined the Bridgeway staff in September of 2015 as Assistant Facilities Director and he currently serves as Facilities Director. He oversees the care of Bridgeway facilities, including management of part-time employees and independent contractors. He also collaborates with various ministry teams to serve their ongoing ministry/facility needs, and he works with volunteer leaders to help provide support for their activities. He loves working with people who share the same values and who are working towards the common goal of advancing the Kingdom of God.
Emanuel is married to Otilia and they have two sons (Ian and Levi). He is a licensed general contractor, and prior to working at Bridgeway he ran his own business as a general contractor for 18 years. When he's not at work he enjoys traveling with his family and playing sports.
Jani Jacobs
Controller
E-Mail:
Jani Jacobs has attended Bridgeway since 2012 and came on staff as Controller in April 2016. In her role she directs and manages all areas of our church finances, and ensures we are operating with integrity and efficiency. She also conducts financial analysis and reporting. She loves coming alongside different leaders at Bridgeway to help them excel in their personal ministry goals.
Jani has one son and one daughter, and she holds a degree in Business Management and Accounting from Santa Rosa Junior College. She was a business owner for 15 years, and comes to Bridgeway with 13 years of church financial management experience. When she's not at Bridgeway she loves spending time with her children, sporting events, being outdoors, art, and trips to the ocean and mountains.
Sonya Hollan
Finance & Human Resources Associate
E-Mail:
Sonya Hollan joined the Bridgeway staff in February of 2016 and serves as Finance/Human Resources Associate. She assists the Director of Operations with finance reporting and accounts payable, and she ensures timely processing of ministry deposits and contributions. Sonya also assists with all aspects of human resources. She loves serving alongside the staff and volunteers at Bridgeway. Coming alongside others to help support and encourage in tangible ways daily and advocating for others wherever possible are just some of the many things she loves about her job!
Sonya is married to Wade and they have one daughter, Elizabeth. She studied Business Administration and Communications from Oregon State University and has an A.A. in Business Administration from Central Oregon Community College. When she's not at Bridgeway she loves singing, cooking, and exploring.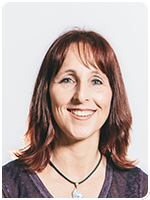 Tracy Benda
Connections & Guest Services Manager
E-Mail:
Tracy Benda is Bridgeway's Connections and Guest Services manager. She joined Bridgeway's staff in 2013. In her role she helps others find a place to connect at Bridgeway that fits the unique way God has created them. She loves helping people, and she especially loves praying for people!
When Tracy isn't at Bridgeway she loves spending time with friends, listening to praise and worship music, studying the Bible, praying for others, and being alone with God.
Michelle Eastman
Database Manager
& Assistant to the Director of Operations
E-Mail:
Michelle Eastman came on staff at Bridgeway in August 2014. She first served as Bridgeway's Edge Middle School Administrative Assistant, and now serves as Database Manager & Assistant to the Director of Operations.
She maintains the church database (Fellowship One), assists ministries with event registrations, supports online giving, maintains giving records, and helps lead the team that processes Bridgeway's weekly offering. She loves that she gets to come to work and work with great people while using the organizational skills God has given her to support others in their ministries.
Michelle is married to Stephen and they have four children, Rebekah, Amanda, Sam and Max. When she's not at work she loves running and baking.