Creative Arts
Jake Owen
Worship Pastor
E-Mail:
Jake Owen has served as Worship Director at Bridgeway since 2010. He carries a passion for God's presence and leads with a desire to stir up hunger for the Lord through intimacy, freedom, and awe.
Jake has been married to Hilary since 2012, and when not at Bridgeway he is devoted to writing music with her, reading, listening to vinyl, and spending time on the front porch with loved ones.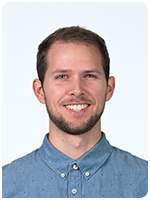 James Love
NextGen Worship Leader
E-Mail:
James Love joined the Bridgeway team in October of 2014 and serves as the Next Gen Worship Leader. In his role he directs the worship ministry for our Next Gen department and helps train up younger musicians. James loves that he gets to share the hope of Jesus with our students, and he also appreciates the opportunity to be an encouraging presence in their lives.
James has an A.A. in Ministry from William Jessup University, where he also completed coursework in Music, Youth Ministry, and Missions. When he's not at Bridgeway he enjoys songwriting, photography, hiking, and skateboarding.
Jeff Eberhardt
Technical Director
E-Mail:
Jeff Eberhardt came on staff at Bridgeway in 2012 after attending Bridgeway for one year. As Technical Director he oversees the production aspect of what goes on at the Bridgeway campus. Whether it is lighting, sound, stage, or video production, his department oversees the implementation and maintenance of gear, and trains volunteers to properly use equipment for their ministry events.
Jeff and his wife, Claire, have four sons: Isaiah, Johnny, Israel and Ryan. He holds a B.A. in Radio, TV, and Film from Hope International University and Cal State Fullerton. When he's not at church he loves soccer (Go Republic!), playing music, watching movies, and tackling home improvement projects. He also operates a live event videography and production company, Jeff Eberhardt Productions.
Brian Lisk
Audio Director
E-Mail:
Brian Lisk has served as Bridgeway's Audio Director since 2008. He and our team of sound volunteers assist the worship team in leading our congregation in worship. Brian is also the executive producer of Bridgeway's radio program on KFIA, Time to Transform. Brian loves the family feel of our Creative Arts team, and he's grateful for all of the friendships he's developed with our dedicated team of staff and volunteers. He also loves learning more about audio technology, and appreciates how the field is always changing and progressing.
Brian is married to Jenni and they have one son, Charlie (born in 2015), one two cats, and one rabbit. When he's not at Bridgeway he loves snowboarding, legos, and playing Forza games on his Xbox. He is a fan of Notre Dame football, and, as a New England native, he is a huge fan of the Boston Red Sox and New England Patriots.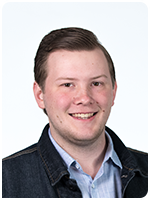 Brennan Stewart
Video Specialist
E-Mail:
Brennan Stewart began attending Bridgeway in 2012 and came on staff in 2017 as our Video Specialist. Brennan manages the production of video content for all internal and external promotional media at Bridgeway. He loves the opportunity he has to serve in a way that allows other ministries to shine. He also loves the personal stories he gets to hear while filming testimonies.
Brennan will be married to Emma this May, and he is currently pursuing a degree in English at William Jessup University. When he is not at work he enjoys philosophy, theology, writing, playing the guitar and piano, and watching the San Jose Sharks (he went to his first game when he was ten days old!).
Lucien Hughes
Technical Production Engineer
E-Mail:
Lucien Hughes joined the Bridgeway staff in February 2017 as our Media Specialist. He oversees most of the recording that happens at Bridgeway, including Pastor Lance's Time to Transform radio broadcasts. He also helps with state logistics and venue management around our campus. Lucien loves working with the Creative Arts team at Bridgeway, and counts it a privilege to be able to use his talents to further what God is doing here.
Lucien is married to Tara, and they have two sons, Kadence (b. 2015) and Marshall (b. 2017). He holds a Sound Master Recording Certificate from Pinnacle College. Outside of work, Lucien enjoys hockey, snowboarding, and movies.
Lena Semenyuk
Events Coordinator
E-Mail:
Lena Semenyuk joined the Bridgeway staff in December 2016 as our Events/Hospitality Coordinator. In her role she helps manage the Bridgeway Café and she manages all-church events like our Newcomers' Desserts, Baby Dedications, and Baptism Services. She enjoys serving others, and she especially loves getting to help put on a wide variety of God-centered events on our campus.
Lena has as A.S. degree in Biology, Psychology, and Natural Sciences from Sierra College and a B.S. degree with honors in Biology from Grand Canyon University. When she's not at work she likes to be outdoors, hike, travel, visit historical sites, and read. She is also an avid collector of sentimental things.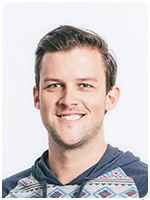 Kolin Kraning
Communications Specialist
E-Mail:
Kolin Kraning joined the Bridgeway staff in May 2016 and serves as Communications Specialist. He works to maintain the visual identity of the Bridgeway family across all media, and utilizes creative communication to further the Kingdom in our community. Kolin loves having the opportunity to be creative in a positive, encouraging environment with great people.
Kolin is married to Alaina and they have two daughters, Everly Lennon and Indiana Reyn. He studied Graphic Design and Cultural Anthropology at Cal Baptist University. When he's not at Bridgeway Kolin enjoys being a husband and father, listening to/playing/writing music, making art, watching soccer, and the fine art of cinema.
Deepak Vejendla
Director of Information Technology
E-Mail:
Deepak Vejendla joined the Bridgeway team in August of 2017 as the Director of Information Technology. In his role he manages and supports IT systems, networks, hardware, and related applications for Bridgeway. He loves the opportunity to support technology that is used for God's glory. Prior to coming to Bridgeway he spent 18 years working in Information Technology in healthcare and the private sector.
Deepak is married to Emmy. He holds a Masters in Public Administration from CSU Stanislaus, a B.A. from CSU Stanislaus, a Health Informatics Certification from UC Davis, and several IT-specific certifications. When he is not at work he enjoys listening to music, playing the drums, traveling with his wife, and following his favorite sports teams.